Bobby's Cuba: Prelude to a Revolution. Synopsis.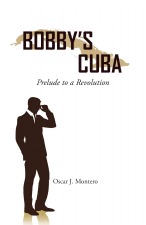 Bobby's Cuba: Prelude to a Revolution is the first person narrative of a Cuban octogenarian, exiled in New York City three years after the Revolution of 1959. As a young man in Havana during the 1950s, Bobby Linares works at a popular café, as a bellman at a fancy hotel and as a driver, tour guide and escort. As he recalls his efforts to make it in the capital city, Bobby gives an eyewitness account of its vibrant culture, the horrors of Batista's dictatorship and its unraveling before the advance of the rebels under the leadership of Fidel Castro.
Bobby's earliest memory is of a hurricane and flood in 1932 that levelled the city of Santa Cruz del Sur, 180 miles east of his hometown in central Cuba. He remembers the storm's impact on him, along with a harrowing story he later heard from a neighbor, who survived but lost his entire family. At eighteen, Bobby travels to a Baptist school in North Carolina where he learns English, a skill coveted by young Cubans eager to improve their chances in an economy that relied heavily on U.S. investment. Back in Cuba in 1949, limited opportunities and a corrupt system of cronyism force him to seek his fortune in Havana. Bobby experiences first-hand the jarring contrasts of the capital, a glittering nightlife fueled by a booming economy, abject poverty on its fringes, and increasing violence as opposition to Batista gains force. Along the way, he meets friends and lovers who open new doors and help to define the man that he becomes, quick-witted and street-wise, art lover, smooth operator and survivor.
As Castro's rebels move west to Havana, Bobby recalls their entrance in his hometown just after Christmas in 1958, a modest yet significant event overshadowed by the Battle of Santa Clara twenty-five miles away. As he makes his way to Havana through rebel lines, he learns that his young friend was killed in Santa Clara. Back in the capital, he witnesses the fury of the mobs eager to destroy symbols of the past, gambling casinos, nightclubs, jukeboxes and parking meters, the chaotic prelude to the rebels' triumphant entry into the capital on January 8, 1959. In the months that follow, Bobby tries to adapt to the new order, but finds it increasingly difficult to navigate the values and radically shifting priorities of the Revolution. In October 1962, with the help of his lover, Minnie Lieber, a frequent visitor to Havana, he leaves Cuba for New York a few weeks before scheduled flights to the United States were cancelled, for over fifty years as it turned out.
In New York, Bobby meets people who view him as the exiled victim of a totalitarian regime, and others who consider him a bourgeois traitor to the people's Revolution. He shrugs off contradictions that do not define him and resigns himself to life as a perennial outsider, unable to return to his family and home, yet stoic and even optimistic. Fending off bitter regrets and crippling nostalgia, Bobby finds contentment as a survivor in a world that is never his but still offers moments of solace and pleasure.
Oscar J. Montero
New York, NY
October 15, 2018